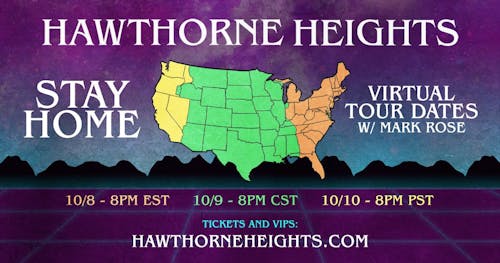 Hawthorne Heights
Mark Rose
$12.00
On On Location Live
Hawthorne Heights' STAY HOME tour w/ Mark Rose (Spitalfield)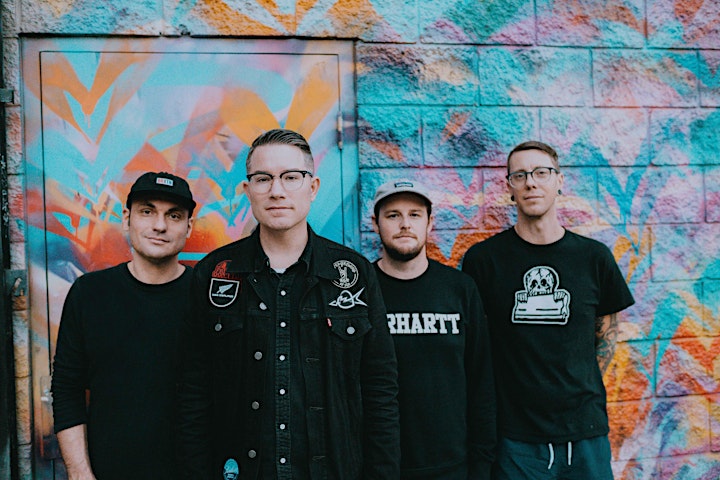 Hey everyone,
We'd like to share an update with you regarding the Stay Home tour. There has been some confusion with regards to purchasing tickets for certain cities. As a means of making our virtual livestream more inclusive and easily accessible to all regions across North America, we have decided to limit the number of shows to three performances that will be broken down by Time Zone (Eastern Standard Time, Central Mountain time, and Pacific Standard time). These performances will take place on October 8th EST, 9th CMT, and 10th PST, respectively. Please see color coded map for reference.
To simplify things further, by purchasing a ticket to the show of your area, you will also have access to watch-on-demand for up to 5 days following the event. All purchasers are also allowed to buy a ticket for any show. For those who have already purchased a ticket for the Stay Home tour, you will be receiving an email with your designated code to stream.
Our only goal is to try to raise money for people and venues we care about, and to give our fans a tiny break from reality. So represent your state/region, and enjoy a few special emo rock n' roll shows in the comfort of your home. Get your tickets and VIP now at HawthorneHeights.com
Sincerely,
JT, Matt, Mark, and Poppy
Tune in for the live stream or bundle access with a virtual meet and greet and more - tickets are on sale now via On Location Live: http://onlocationlive.com/sodabar
Package Offerings:
- The Stay At Home Tour: with Hawthorne Heights - $12
● Access to the Stay Home Tour show on 9/27 at (Time)
- Emo Trivia with Hawthorne Heights (VIP Package) - $60
● Access to the Stay Home Tour on (Date) at (Time)
● Exclusive virtual meet & greet with Hawthorne Heights after their set ends
● Personal photo from your virtual meet & greet downloaded directly to your phone
● Laminate, Button Pack and Big Back Patch
● Autographed Setlist
● Micro Batch Coffee
- Faces in the Crowd VIP Upgrade (available to fans who have purchased the Emo Trivia with Hawthorne Heights VIP package) - $25
● Who doesn't like to see their face on the big screen? As an add-on to the other super fun VIP package, we will print out a picture of your face and put you in our virtual crowd. Our camera operators will feature you from time to time during the show. This makes an absolute banger surprise gift. Imagine you're watching with your friend, and they have no idea you purchased one of these special FACES IN THE CROWD VIPs, and BOOM...there they are! These are going to be so much fun. VERY LIMITED EDITION.
https://www.facebook.com/HawthorneHeights/
https://www.instagram.com/hawthorneheights/
Venue Information: